Russian Immigrants Sam and Harry Shine began a new life in Chicago, IL but heard Iowa held great opportunities. In 1902, they took a train as far as their money would allow them. The brothers settled in Spencer, Iowa, opened a shop on Grand Avenue and started calling from farm house to farm house in a horse drawn wagon, peddling and trading anything of value - pots and pans, feathers, hides, furs, wool, and scrap metal.
Ben Shine was born in 1908. After serving time in the service, he returned to Spencer and purchased the family business from Sam and Harry. Later, Ben moved the business from Grand Avenue and started developing the current 38 acre site.
Toby Shine, current owner and President of the corporation joined Shine Bros. Corp. full time in 1960. Around 1965, the company stopped handling hides and by the end of the 1970s phased out its large wool business.
In the mid 1980s, an important decision was made about the company's direction. To stay competitive in the business it was decided wire chopping was the way to go. Today two chopping lines are in place.
The automobile shredder was installed in 2005.
Toby's daughters, Keven and Eva are now a part of the Shine Bros. Corp. management team.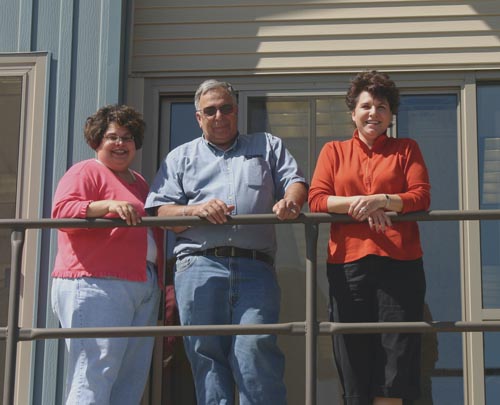 Eva, Toby and Keven Shine